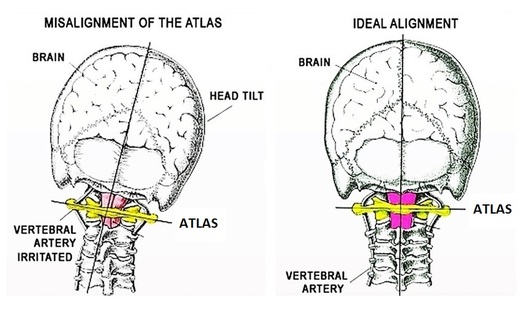 ATLAS ORTHOGONAL (AO) is a chiropractic technique that specializes in the diagnosis and correction of improper spinal function.
The symptoms, however, may be elsewhere in the body, but usually can show up as:
A head tilt
Uneven shoulders
Decreased or increased normal curves of the spine
Uneven hips
Tight muscles
Or, you might even be suffering with the following problems:
Headaches
A crunching or grinding neck
Imbalance or jaw problems
Organ dysfunction
Knee, hip or back pain
Adjustment of the atlas (upper neck vertebra) may be needed. Chiropractors use spinal adjustment techniques to restore spinal & body function, promoting wellbeing. The body will heal itself and this occurs through proper nervous system function.
HOW DOES AO WORK?
The upper cervical (neck) area consists of occiput, atlas (C1), axis (c2).
This area is the most influential in the nervous system, outside of the brain. With imbalances in this area it can cause or worsen a number of functional pathological conditions.
The upper cervical area is imaged with a 4 part x-ray series to analyze any imbalances. Measurements from this analysis are converted into custom angles of treatment. Then these results are reported to you and the correction is made. Diagnosis will be made and reported to you and any other doctor you require.
Upper cervical misalignment, irritation, or poor motion of spinal joints is adjusted without twisting or popping of spinal joints. This avoids any side effects from treatment and allows for more stability.
This means less treatment to achieve long-lasting benefits.
The AO instruments use a wave of vibration precisely aimed at the atlas. The energy is transmitted through the neck and most patients feel nothing. This means the treatment is safe and effective for almost everyone, regardless of age, medial history or condition.
AO chiropractic adjustment may help you escape drugs or surgery. However, no one has to go off drugs to achieve benefit.
WHY IS THE ATLAS SO IMPORTANT TO HEALTH?
The upper cervical area is important to health because:
It affects muscles and nerves in the head and face
It houses the 'switchboard' of the body connecting messages between the brain and the body.
It affects parts of the brain with connections to organs
It affects postural and muscle balance producing perpetual spasm
It directs mechanical alignment and function of the entire body.
WHAT IS THE TRAINING OF AN AO CHIROPRACTOR?
No practitioner today has the extent of undergraduate educational focus that chiropractors have in spinal diagnosis. AO chiropractors graduate with the traditional doctorate of Chiropractic and then complete an additional two year study in the upper cervical spine.
YOU MIGHT TRY AO IF?
You prefer relief without manual manipulation, drugs or surgery
You were referred by another chiropractor, medical doctor or health care professional
You have complicated, unresolved conditions
IF YOU HAVE?
Recurrent infections or chronic sickness
Feel out of balance, Light-Headed or Clumsy
Babies with Colic, Crying, Bedwetting or Ear/Nose/Throat
Dysfunction
Functional Scoliosis
Check out our Pancake Wellness Center Reviews
 …YOU SHOULD FURTHER INVESTIGATE THE BENEFITS OF AO CARE!
Watch the videos below to learn more about what we do and why we do it.